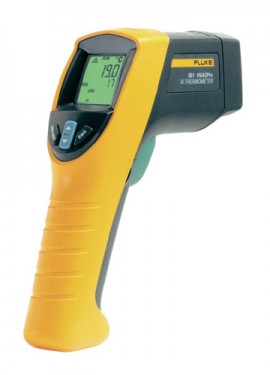 Fluke 561 Non-Contact Handheld Infrared Temperature Sensor w/ Type K Thermocouple Contact Probe
The Fluke 561 handheld infrared temperature sensor w/ -40 to 1022 deg F range (-40 to 550 deg C) is a small, lightweight, easy to use portable device that can quickly help measure temperature.
Features: 12:1 Spot Ratio, Hi/Lo Alarms, Measures Min, Max, Avg & Differential, 12 hr Battery (Powered by (2) AA Battery), Adjustable Emissivity w/ Three (3) Setting, 8-14 Micron Detector, IP54 Rated , Single Point Laser Sighting & Includes Type K Thermocouple Sensor. The 561 will work with any Type K Thermocouple w/ mini connector.